Theater Theatre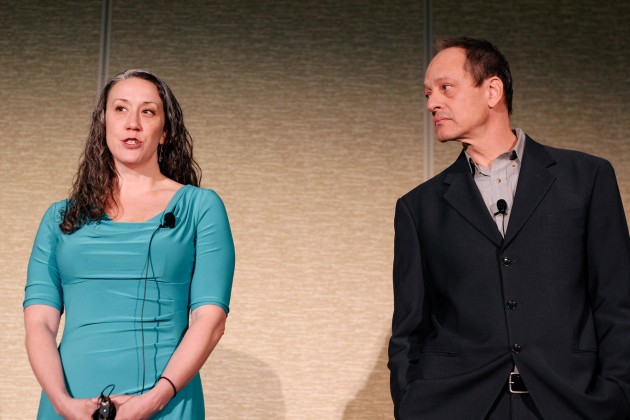 "What are the ambitious questions? What are the questions that are big enough that you are probably going to need a whole team to answer? Questions that are so big that the answers haven't been created yet?" These sentences were spoken by my Theater of Inclusion collaborator, Rebecca King, a couple months ago at the Indiana Summit on Out of School Learning in front of a whole lot of people. I was standing across the stage from her and my mind went blank.
Suddenly, I no longer cared about the script we carefully created to address the emergent needs of the audience – a group of 600 remarkable leaders from around the state who are all-in when into comes to addressing the liminal space kids everywhere inhabit between school and home. My mind was replaying all the stages, black boxes, galleries, museums, gymnasiums and community centers, detention centers and church basements, over the past 14 years where Rebecca and I, step by careful step, introduced one person after another to the workings of the theater. Theaters don't need curtains, don't need box offices, don't need a website. Theaters exist in every place and at all times. Just think about it?
When my daughter and I find cheap flights to New York City we go there to roam about, to observe life on the street, to absorb the brilliance of a cappella groups pushing the acoustic boundaries of the subways. We want to walk through a neighborhood and think, " I could live here." Think, "I could easily have walked down this street a million times and missed this flower pot, missed this gap created by the raised window, with the ABBA music filtering down onto the sidewalk." Rilke gets at this sense of theater stage when he writes in his First Elegy, "…As you walked under an open window, a violin yielded itself to your hearing. All this was mission. But could you accomplish it?" (Translation by Steven Mitchell) Theater, "theater", for both Rebecca and I, has been and is a shared space outlined by rudimentary and irreducible skills that are cultivated and amplified for the sake of learning.
If you have never stepped onto a TED stage and delivered your soul inside a handful of minutes I'd recommend that you give it a try. Rebecca and I delivered a humble TEDx Talk a while back and we both found the experience profound and helpful. TEDx organizers now ask us to coach others toward their handful of minutes to explore the place where little stories meet big – very big questions. Speaking and speaking coach are twins intertwined. Passion is the nexus. If you want to know more about this try watching a few TED Talks. It's all focused on the energy required to get things done, focused on what it takes to push our understanding of our existence forward. The important thing for me is to acknowledge that "existence" doesn't move forward by people becoming superhuman. Life as we know it moves forward by each one of us prying open the content of who we are and what we are about every day.
Two speakers have been "assigned" to me for the upcoming TEDx Conference (October 2014) in Indianapolis. I received contact information for both of them a while ago. I've not been able to make direct contact with either of them. And there is a good reason for this. They are both out doing what they are doing. They are embedded in rich and deeply textured lives. Who has time for a coach? Who has time to fit their cosmos into a handful of minutes to be delivered on a stage? Right? But I am certain that even if the process of putting a TED Talk together is messy it is worth the effort.
There has to be a moment in all our lives where the messy and the magnificent meet. I mentioned "learning" earlier. Learning is the sweet spot. Learning is where the romance blooms. Learning is the heart of the theater. You can't write a script or direct a play or choreograph a movement across a stage without having to learn something about yourself and the world around you. I get that the arts are interesting to look at, to point at, to argue about. I've come to love the person saying, "I could have done that!" when looking at a scene on an Indy Fringe stage or at a painting hung on the wall at the IMA. At least he showed up. At least she had a response. The theater, as we know it, isn't about agreeing with everybody else. It's not about status. It's about the kind of learning we all long for. Eugenio Barba, founder of Denmark's Odin Teatret writes in The Paper Canoe: "A fact fundamental to our profession must be reaffirmed here: teaching is impossible; one can only learn."
Getting back to that stage a few flights up in the J.W. Marriott on Indy's west side a couple months ago my collaborator surprised me – again. She had me thinking about my really big questions and the big answers I haven't begun to imagine yet. I found myself thankful for stages and theaters, for gaff tape and pin spots, for light boards and green rooms, and the backs of "houses" where we, when entering our theaters, in our cities and in our towns, are greeted by ushers pointing toward our seats. Those ushers are everywhere we go when we go out. You can call them angels or insight or having a perfect moment. But be aware, like my daughter is aware whenever she finds herself out exploring her town. She is looking for souvenir money to put in the hat. She doesn't want to miss the chance to say, "I was here. This is my contribution." This is where the questions are. This is where the theater is. These are the sight lines of a TED Talk. This is the energy I found at that Summit on Out of School Learning. I didn't say anything about this in the moment. I thought I'd wait until now to bring it up.