Dante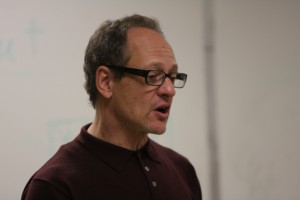 Dante Ventresca founded Theater of Inclusion, which began in 2000 as way of bringing diverse people together to work on creative projects. Whether it be a theatrical performance, a large-scale mural, or just a thoughtful conversation, Dante crafts experiences that allow each individual to identify, practice, and contribute their strengths to a group project.
As the ninth of eleven children in his family, Dante learned early in life the value of teamwork and shared leadership. He combines these interpersonal skills with knowledge gained while obtaining his Bachelor in Fine Arts from Indiana University in 1982, to teach how skills employed by artists can be used to solve problems in other areas of life.
Dante's work has earned him the Creative Renewal Fellowship from the Arts Council of Indianapolis, two Individual Artist Project Grants from the Indiana Arts Commission, and a NUVO Cultural Vision award.