Rebecca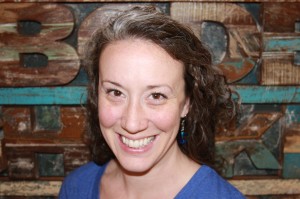 In 1998, Rebecca graduated Magna Cum Laude with a B.A. in Dance from Point Park College in Pittsburgh. After graduation she danced with The Repertory Project in Cleveland for two years before returning home to Indianapolis, where she began her collaboration with Dante Ventresca.
Believing that the arts are comprised of transferable skills such as organization, inquiry, problem-solving, cooperation, and communication, she has provided the guiding vision for Theater of Inclusion since 2000. It is her opinion that the arts can provide unique opportunities for engaging community members and developing leaders.
In 2004, she received the Indiana Governor's Award for Tomorrow's Leaders from the Indiana Humanities Council, and in 2005 at the age of 27 the Indianapolis Business Journal selected her as one of its Forty Under 40.
The Arts Council of Indianapolis awarded her the Creative Renewal Fellowship in 2009, which she used to attend the Venice Biennale and spend time at the Loris Malaguzzi International Centre, an educational research and collaboration space that is steeped in the Reggio Emilia philosophical approach to learning.
In 2013, she became a graduate of the prestigious Stanley K Lacy Executive Leadership Series.
King's work with artists, students, community leaders, and business executives has given her a unique vantage point from which to see the city. Because of that, she was selected to serve on the "Love Indy" committee, which is part of the Plan 2020: The Bicentennial Plan for Indianapolis, a collaboration spearheaded by the Greater Indianapolis Progress Committee and Department of Metropolitan Development, and to work on the TedxIndianapolis planning committee.